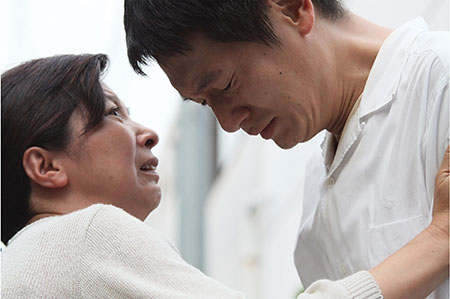 ---
あらすじ
25年が経過して、兄ソンホがあの国から帰ってきた。妹リエが心待ちにしていたソンホの帰国。彼は70年代に帰国事業で北朝鮮に移住した。病気治療のために3か月間だけ許された帰国だった。25年ぶりの家族団欒は微妙な空気に包まれる。一方、かつて同じ場所で学び青春を謳歌した、ソンホ16歳時の仲間たちも彼を待っていた。奇跡的な再会を喜ぶ一方、ソンホの治療のための検査が行われる。しかし、担当医には3か月では責任を持って治療できないと言われてしまう。父は滞在延長を申請しようとし、リエは違う医者を見つけようと頑張る。そんな矢先、本国からソンホに「明日、帰国するように」との電話が来るのであった・・・。ヤン・ヨンヒ監督の実体験に基づく物語。
(c)2011 Star Sands, Inc.
Tuesday, March 24 @ 7:00 pm
Kazoku no kuni (100 min) (2012)
かぞくのくに
Our homeland
2012 Berlin International Film Festival – C.I.C.A.E Award
Shown in Japanese, with English sub-titles
Cast: SAKURA ANDO, ARATA IURA, Ik-june yang
Director: yonghi yang
http://kazokunokuni.com/ (Japanese)
http://sevensouls.splashthat.com (English)

---
STORY
One hot summer day, Rie, a 31- year-old second-generation Korean born and raised in Japan was looking forward to her brother Sungho's return. Sungho, 10 years her senior, had relocated to North Korea in the 1970's under the "repatriation program" but had attained special permission to return to Japan for three months to seek medical treatment, his first time setting foot in his hometown in 25 years. To welcome her long lost son home, his mother prepares all of his favorite dishes from when the man was a child. The night that the family reunites, Rie witnesses just how difficult life in North Korea has been for her brother.
The time allowed for Sungho in Japan is limited. He had medical tests to undergo and gifts to buy for his son back home in North Korea. The hospital is equipped with all of the modern medical technologies, and the town in which he grew up now looks drastically different. One after another, the sights Sungho takes in are surprising to him.
A highlight of the trip was to be his reunion with the friends, and his first love, which he left behind when he was just 16. Their first reunion in 25 years, they gather to welcome their friend who "headed North," back home. The gathering brings up mixed emotions among the friends.
In fact, Yang, a surveillance agent from North Korea had demanded of Sungho that he give his beloved sister Rie a "job" to take care of. When he approaches Rie with this "job," his father overhears his son talking. When his father reprimands Sungho for what he had done, Sungho becomes extremely emotional. And finally, they find out the results of his medical tests…
Will the family and friends be able to make up for the 25 years' lost time?
---
ARTICLES AND REVIEWS
Drama on Ethnic Koreans' Plight Selected for Showing at Oscars (The Asahi Shimbun) http://ajw.asahi.com/article/cool_japan/movies/AJ201209140043
"It's difficult to remain unaffected by the story's emotional components. But the director doesn't place her emphasis on melodrama, being simply interested in two people handed radically different life perspectives by the course of history." (Berlinale Film File) https://www.berlinale.de/en/archiv/jahresarchive/2012/02_programm_2
012/02_Filmdatenblatt_2012_20127122.php#tab=filmStills
To Tokyo from North Korea: A Harsh Homecoming (The Japan Times) http://www.japantimes.co.jp/culture/2012/07/27/films/film-reviews/kazoku-no-kuni-our-homeland/#.VPDOgC6aXbc
Director Yang Yonghi Depicts a Bittersweet Family Reunion (Tokyo Time-Out) http://www.timeout.jp/en/tokyo/feature/6015/Our-Homeland-Kazoku-no-Kuni