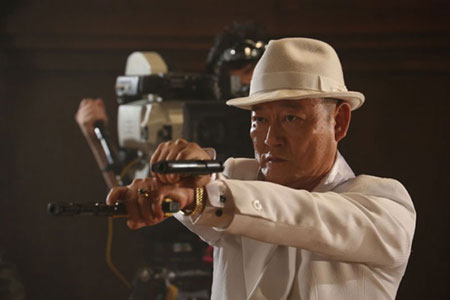 ---
---
あらすじ
ヤクザの組長・武藤(國村隼)は獄中にいる妻・しずえ(友近)の夢を叶えるために、本業そっちのけで娘・ミツコ(二階堂ふみ)を主演にした映画の製作を画策している。面会の度にしずえに対して、撮影は順調に進んでいると場を取り繕う武藤。しかし、肝心のミツコは男と逃亡中、そして、しずえの出所まではあと9日しかない。金に糸目をつけず、片っ端から撮影機材のレンタルをしながら、なんとか娘の身柄を確保した武藤は、ミツコから(実はすべて嘘なのだが)映画監督と紹介された駆け落ち男・公次(星野源)を監督に抜擢し、本格的に撮影準備を始める。映画監督として騙しながら映画を撮影しないと殺される公次は、右も左もわからぬまま、オールヤクザのスタッフの質問攻めに対応していくが、限界に達しその場を逃げ出してしまう。簡単に追っ手の組員に捕まってしまう公次であったが、そこに奇跡のような助っ人が現れる。それは「いつか一世一代の映画を撮りたい」と、少年期から映画監督を夢見る平田(長谷川博己)であった。映画の神様は自分を見捨てていなかったと、満を持して撮影内容の段取りを始める平田は、武藤と敵対するヤクザ組織の組長であり、過去の衝撃的な出会いからミツコに異様な愛情を抱く池上(堤真一)に協力を要請する。かくして、ホンモノのヤクザ抗争を舞台にした、スタッフ・キャストすべて命懸けの映画が、電光石火のごとくクランクインしようとしていた・・・。
Wednesday, March 26 @ 7:00 pm
Jigoku De Naze Warui (129 min)(2013)(2013)
地獄でなぜ悪い
Why Don't You Play in Hell?
Shown in Japanese, with English sub-titles
---
Cast: Shun Kunimura, Shinichi Tsutsumi, Fumi Nikaido
Director: Shion Sono
http://drafthousefilms.com/film/why-dont-you-play-in-hell (English)
http://play-in-hell.com (Japanese)
---
STORY
Ten years ago, the Kitagawa yakuza clan attacked the Muto yakuza clan at Muto's own home, only to have Muto's wife fight back. This unexpectedly left the Kitagawa clan in shambles, with their top hitman Ikegmai wounded and Muto's wife in prison. Despite the carnage, the most unfortunate fallout from this attack is when Muto's beloved daughter, Mitsuko, has her adorable toothpaste commercial taken off the air. Now, Ikegami seeks revenge, while Muto only has one desire: to have his wife return from prison to see Mitsuko star in her first movie. Enter The F@#k Bombers, an eager but untalented group of wannabe filmmakers whose dreams of making movies have come crashing down after ten years. Circumstances have brought them to this fateful moment where they'll be able to film the climactic battle between yakuzas in an epic, over-the-top ending for the ages.
---
Selection Committee Comments
"If Quentin Tarantino made a comedy about Japanese gang warfare, this would be it!"
"It's Kill Bill meets The Seven Samurai, or maybe Django meets the Drifters!"
"This film promises to be an all-time Japanese cinema cult classic. It is so campy! Film students and aficionados around the world will love it."
"After 5 minutes, I realized the 'violence" wasn't serious, and so I laughed all the way through!"
"From now on, when I brush my teeth, it will always feel different! Watch the movie, and you will understand why."
"Totally silly, totally over the top, and totally entertaining. I loved it!!"